Theodore Van Gogh bear (Teddy) is three feet tall, brown, fuzzy, loveable and likes hugs...Teddy lives with artist Margaret Hoybach near Charleston, South Carolina.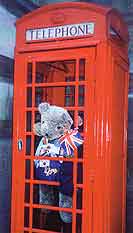 Teddy was a normal stuffed animal until Margaret started dressing him.Then he took on a life of his own. Margaret is his secretary, chauffeur and caretaker. She carries him on her back in a custom backpack covered with patches and pins of the places he has visited.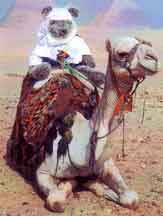 For ten years, Teddy served as a mascot for Happy Days and Special Times, an organization in South Carolina for children with cancer. He made hospital visits, gave out hundreds of hugs, and attended the annual one week summer camp. He participated in camp activities, riding in boats, climbing the wall, and even jumped with the skydiving team. His caretaker, Margaret, was the art director for the camp for 15 years.
Teddy has traveled through 46 states and has visited 28 countries on six continents. He has ridden horses in the Rockies, an elephant in Indonesia, a camel in Egypt to visit the pyramids, a dog sled on a glacier in Switzerland and in a hot air balloon over France.
As a good will ambassador, Teddy makes appearances at elementary schools both in the United States and Europe. Wearing costumes from different countries, he teaches the children to say "hello" in 8 different languages. He is a great teaching tool for geography and social studies.
Theodore has numerous pen pals and can be reached at Margaret's address:
1720 Congressional Blvd., Summerville, SC 29483-5132.